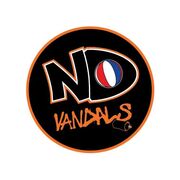 The
North Dallas Vandals 
are a professional basketball team that plays in the 
American Basketball Association
.
The Vandals play their home games at the Alfred J. Loos Fieldhouse.
Owner(s) - Casey Topletz
Head Coach(es) - Tyler Gatlin
Assistant Coaches(es) - Sarah Gayler and Kevina Lawrence
The North Dallas Vandals, along with the Dallas Impact, was created to replace the Dallas Generals, an ABA team based in Dallas that played a single season from 2009-2010. The Vandals were created and financially backed by Casey Topletz, who cited dissatisfaction with the Generals of whom he worked for, and after they folded he created the Vandals, stating,
"I decided that instead of working for somebody else and having them drop the ball, I would create my own team and do things the right way,"
The North Dallas Vandals are one of the most successful ABA teams, having gone to the semifinals and the finals through their three year existence. The Vandals hold the distinction of being the first ABA team to have a woman on it's roster when they suited-up Kavita Goss for the 2010-2011 season. 
Season-by-Season Record
Edit
2010-2011
Edit
The North Dallas Vandals went 11-6 in the regular season, eventually being defeated by crosstown rivals Dallas Impact in the second round of the playoffs.
2011-2012
Edit
The Vandals went 11-2 in the regular season, going all the way to the semifinals before losing to the San Diego Sol.
2012-2013
The Vandals would go on to their best season, going 20-2 and making it to the finals, eventually losing to the Jacksonville Giants.
References
Edit
1.   http://www.dallassouthnews.org/2012/03/12/north-dallas-vandals-basketball/
2.  http://www.hometeamsonline.com/teams/default.asp?u=NDVANDALS&t=c&s=basketball&p=coaches
Community content is available under
CC-BY-SA
unless otherwise noted.