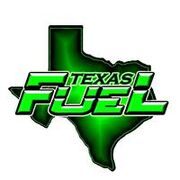 The 
Texas Fuel 
are a professional basketball team that plays in the 
American Basketball Association
 and are based in San Antonio, Texas. The Fuel are one of the most sucessful ABA teams, and were founded in the 2008-2009 season.
The Fuel play their home games at both the Alamo Convocation Center and the Mission Conception Sports Park.
Owner(s) - Delvin Maston and Aurora Deiri
Headcoach(es) - Marston Delvin
Assistant Coach(es) - None
The Texas Fuel were originally going to go by the name South Texas Showboats until the management saw an environmental film named FUEL that inspired them to go green and change their name to the Texas Fuel. The team entered the ABA and have been perennial playoff contenders since the 2009-2010 season.
The Fuel boast of being the first ABA team to display their full-on dedication to going green by promoting the use of alternative fuels to power vehicles, like bio-fuel. In honor of this commitment, the team was also given a bio-fuel powered bus by Farouk USA and Biosilk during the 2009-2010 season.
The Texas Fuel have had several All-Star players throughout it's five year roster, and became the first ABA franchise to sign a current National Basketball Association player to it's roster when Indiana Pacers member George Hill, then playing for the NBA's San Antonio Spurs, signed a contract to play two exposition games for the team while waiting for the 2010-2011 NBA lockout to end.
Season-by-Season Record
Edit
2008-2009
The Fuel sputtered to an 8-7 record in their first season, narrowly missing a spot in the playoffs.
2009-2010
Edit
The Fuel did even worse, going 3-11 in the season, to this date their worst record, but nevertheless made the playoffs, making it to the second round (or "Elite Eight" tournament) before being defeated by the Southeast Texas Mavericks.
2010-2011
Edit
The Fuel played much, much better in it's third season, going 15-4 in the season before being beaten in the semifinals.
2011-2012
Edit
The Fuel  would go 12-2 in the season but be defeated in the first round by the North Dallas Vandals.
2012-2013
Edit
In their latest season the Fuel would go 5-4 and be defeated in the first round by the Colorado Kings.
References
Edit
1. http://en.m.wikipedia.org/wiki/Texas_Fuel
2. http://basketball.usbasket.com/team/Texas_Fuel/12702?p=team=12702
3. http://www.examiner.com/article/tx-fuel-aba-pro-basketball-playoffs-final-8-andre-alerete-team-green-ambassador 
Community content is available under
CC-BY-SA
unless otherwise noted.